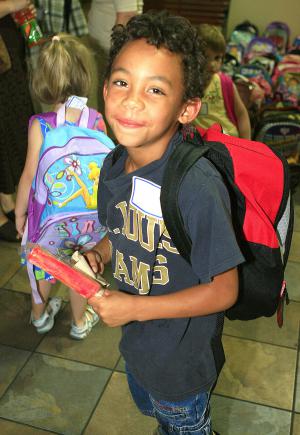 We lopen verder over de weg. Een kleine zwarte jongen loopt met me mee, achter me aan. Hij wijst me erop dat hij mijn rugzak meesjouwt. Ik was het vergeten als hij er niet aan had gedacht. Ik weet ook niet of ik het nog nodig heb. De rugzak is half zo groot als de jongen. Ik weet het niet. Als hij het mee wil sjouwen mag hij dat doen.
---
Die rugzak staat symbool voor het idee dat je voorbereid moet zijn. Er zitten zaken in die ergens voor zijn voorbereid, of eten voor onderweg, of er zit niets in maar ik heb 'm toch bij me in geval dat.
De jongen doet me denken aan de droom waarin Barbara helemaal enthousiast werd over een project dat ik samen met een kleine jongen zou doen. Wel frappant dat die jongen vind dat ik die tas nog even bij me moet blijven dragen.